The ultimate checklist of wardrobe essentials: which 28 essential pieces do you need in your closet?
This is a list of wardrobe essentials that we created for you. You can use this to create your own personalized list.
Wardrobe essentials – Tops
1. A crisp white shirt- A white button down shirt offers endless outfit possibilities.
2. Cashmere sweater- A cashmere sweater adds an instant feeling of luxury to even your most casual of outfits.
3. Silk shirt- Silk is another of those fabrics which adds instant luxury to your outfits. You can wear with absolutely everything for all occasions.
This slim, stretch silk shirt from Vince comes in white, navy or black. The navy version has great reviews.
4. Asymmetrical top- I am a huge fan of asymmetry for all sorts of reasons.
Asymmetry can make a simple outfit look far more interesting. It can also help you to downplay the parts of your body you aren't so keen on and play up what you do like.
This asymmetrical silk top from Eileen Fisher drapes well and has a double layer, which ends in a knot.
5. Basic clothing – a solid color tee
It's often advised to have a plain white tee in your closet. And, I don't disagree that a white tee can be a hugely useful closet staple.
But, it doesn't necessarily have to be white. A tee in a solid color can provide a useful background to show off any statement jewelry that you have.
If, for example, you have a great red necklace, then opting for a navy or a gray tee could allow you to show it off beautifully.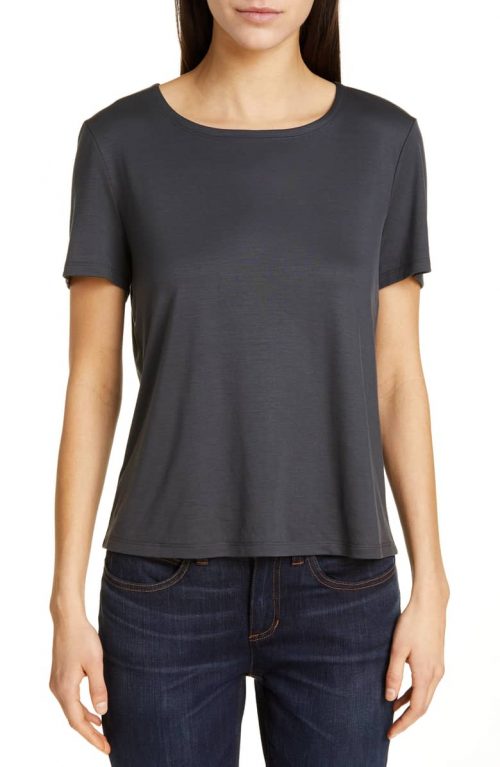 Bottoms you should have in your staple clothing essentials
6. Black pants- Whether you wear them to work or you dress them up for evening, a classic pair of black pants will never go out of style. Loving these
Trendy Genie in a Bottle Tie Pants.
7. White pants-  Just like black pants white pants should be a staple in your wardrobe. Other than black, no other color is as easy to combine and the extra benefit is that an outfit with a white base will look fresh and energetic.
Use winter white in winter and fresh bright white in summer.  Posh + Designs Denim.
8. Dark denim jeans- Finding the perfect pair of jeans isn't easy. But, I'd definitely advise you to make it a dark wash pair. Not only do they work in a huge range of scenarios, but they're also very flattering. Plus, they're less likely to stain so, if you invest in a pair which are a little more expensive than the norm, they're likely to last you longer.  Posh + Designs
Denim.
9. A classic skirt- A classic skirt will mean different things for different women. But most women will suit the two classic styles. Choose either a pencil or an a-line to flatter your figure. You could opt for a patterned skirt to wear with your plain tops, or a plain skirt to wear with your patterned tops. Or, of course, you could try out some pattern mixing.
Dresses
10. An evening dress for formal occasions- No matter whether you go out frequently, or hardly at all, everyone needs a dress that you can pull out of your closet at short notice for formal events, and know that it will look great.
A classic black cocktail dress will see you through most events. You can add a silk wrap or some great jewelry to make it look different every time.
11. A  wrap dress-  is one of those wardrobe essentials that suits everyone, no matter what your body type. The wrap dress defines your waist thanks to the waist tie and elongates your figure, thanks to the v-neck. It skims over your hips and thighs, making it a flattering option for pear shapes.
Not only that, but you can wear a wrap dress for pretty much any occasion. Depending on the fabric you choose, you could wear to work, to a casual lunch or to a formal event such as a wedding.
Outerwear
12. Leather or faux leather moto jacket- A leather moto jacket is a classic which exudes a certain rock star cool. You would wear on casual days with jeans and sneakers.
You don't have to choose classic black. You could opt for a lighter color which may be more flattering close to your face, and which you can wear during spring and summer.
13. Trench coat- There can be few pieces of outerwear which are as iconic as the trench coat. Developed as an alternative to the heavy coats worn by soldiers in the First World War, it adds an instant touch of class to any outfit, even if you're simply wearing jeans and a white shirt.
14. Blazer- A blazer is another one of those pieces which is so versatile.
You could add to your jeans with a tee and a pair of sneakers or heels to instantly elevate your outfit, or you can wear for a night out or for work.
You will want to opt for a style which nips in at the waist for the most flattering effect, unless you have a rectangular figure and you want to play up your androgynous figure with a boyfriend-style, looser fit.
15. Long Sleeveless Vest- A long vest is a versatile piece of outerwear that you can use to add interest, or to skim over the parts of your body you aren't so keen on. It is particularly useful for hiding a belly, or for elongating your figure if you are petite.
16. Denim jacket
Jean jackets are always on trend because they exude an effortless sort of cool.
They've been worn by everyone from Marilyn Monroe to Madonna.
You can wear over your summer dresses to make sure you can still wear them during spring and fall when the weather is a little cooler.
Shoes
17. A comfortable AND stylish pair of shoes for every day- Find a pair of shoes which you find both comfortable AND stylish which you can wear every day.
One pair I really like are these Valerie Summer Wedges  which have arch support, so they are comfortable enough for walking around. Not only that, but they go with the vast majority of my wardrobe.
18. Heeled sandals (to go with everything)- There can be very few women who want to wear heels all of the time.
19. Sneakers (in white or metallic)- Thankfully, sneakers have never been more fashionable. So, that means it's easy to be both on trend AND comfortable, without having to suffer for fashion. I've never believed in the old "beauty is pain" adage. If you choose a classic white or a metallic pair, then you should find they go with a lot of pieces in your closet.
These Frye low top sneakers have mainly 5 star reviews and come with a removable insole in case you need additional support.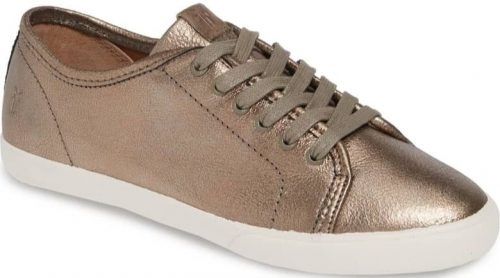 20. Ankle booties (for transitional dressing)- One of the most useful pieces of footwear you can have in your closet, ankle booties help you to continue to wear the summer favorite dresses and skirts you have in your closet through spring and fall as they will add just enough extra warmth. They can, of course, also be worn with jeans and pants. They can also add a little edge to outfits.
Saddle Up Booties
from Posh + Designs Boutique.
20. Ballet flats- A pair of ballet flats are a wardrobe staple which will go well with your skinny jeans and capri pants.
They will never go out of style and will be comfortable enough to wear all day.
Accessories
21. Classic leather belt
Not just for keeping your pants up! A leather belt can be used to create a different look and feel for your outfits.
You could belt around a dress, or you could cinch in the waist of a cardigan, for example, to show off your waist.
22. Tote bag- Your tote bag should be large enough so that you can carry all of your day-to-day essentials around with you.
It should also be sturdy enough to ensure that it lasts, even if you use it everyday.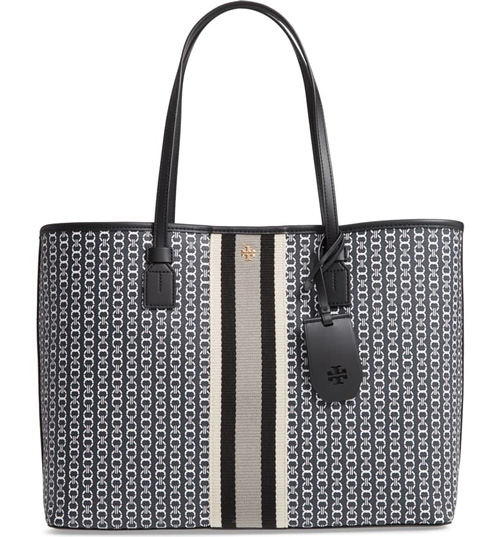 23. Evening clutch- Of course, if you are heading out for the evening, then you won't want to take your large daytime tote with you.
If you choose a metallic clutch it should go with anything in your closet.
24. Silk or lightweight scarf
A scarf will allow you to add pizzazz to an otherwise fairly plain outfit.
Just think how much more stylish a simple pair of jeans and tee could look with the addition of a scarf.
25. Statement necklace- Just as a scarf can really make an outfit, so too can a statement necklace. Useful for adding extra style to outfits which could otherwise be a little boring, a statement necklace can also draw attention away from parts of your body you aren't so keen on and up to your face.
Opt for a necklace to suit your individual style.
This modern necklace by Karine Sultan has good reviews at Nordstrom.
"Love this Statement Necklace so much bought it in gold and went back for the silver. Makes a powerful statement and fills in the neckline beautifully." – Cherokee
26. Great sunglasses- Not only will sunglasses protect your eyes, and the skin around your eyes, they also add some movie-star glamour. Choose a classic shape which won't date. These Kate Spade sunglasses are in a classic tortoiseshell. Other classic shapes include catseye sunglasses and aviators.
Wardrobe essentials
27. A perfectly fitting bra- So many women are guilty of not having their bras correctly fitted, or of wearing the same old bras for years. But, by making sure you have really well fitting bras, you will ensure that what you wear on top of them will look great. Your bust will be supported and held in place where it should be.
28. Opaque tights- A pair of opaque tights are your best friend when it comes to transitional dressing.
That concludes our list of wardrobe essentials.
The POSH Girls
---